Apple Business Connect is a powerful, free tool that revolutionizes how businesses interact with Apple users. It allows for easy management of business information across Apple Maps, Messages, Wallet, Siri, and more, enabling direct customer engagement through actions like reservations and promotions.
Introduction to Apple Business Connect
Discover the newest way to put your business on the map — literally.
Apple Business Connect offers a seamless method for businesses, big or small, to enhance their visibility and customer interaction across Apple's vast ecosystem.
How Apple Business Connect Works for Businesses
With a simple Apple ID, business owners can now claim their location on Apple Maps and tailor their digital presence.
This tool bridges the gap between businesses and over a billion Apple users, ensuring the information provided is both accurate and engaging.
Core Advantages of Apple Business Connect
Personalizing Place Cards on Apple Maps
Make your enterprise stand out by personalizing your virtual business card on Apple Maps.
This is your digital handshake with potential customers, allowing you to control first impressions by claiming and customizing your location's details.
Tailoring Business Details for Apple Users
Craft your narrative by updating critical business information.
From hours of operation to contact details, ensure that Apple users get the most current and relevant information about your establishment.
Visual Engagement with Photos and Branding
Enliven your profile with vivid images and your distinctive logo. This visual appeal can significantly influence customer decisions, inviting them to explore what you offer.
Streamlining Customer Interactions
Facilitate a smoother customer journey by enabling them to take immediate actions like making a reservation or placing an order directly from your place card, enhancing user experience and convenience.
Showcasing Promotions and Specials
With the new Showcases feature, you can spotlight timely offers and promotions, catching the eye of customers with attractive deals and updates, which can be easily managed and rotated to keep your offers fresh and engaging.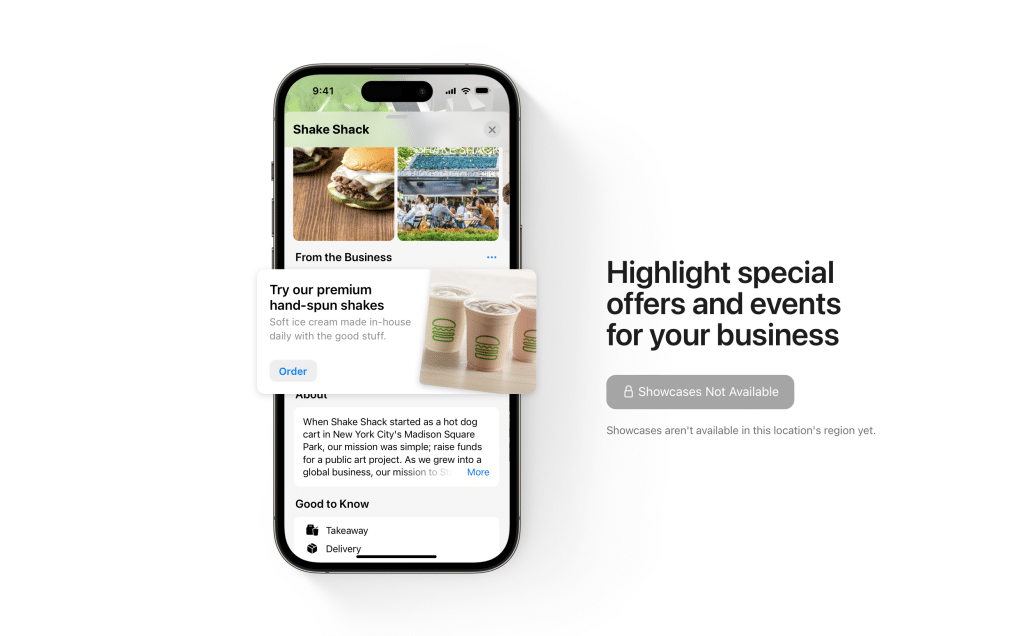 *As of the publishing date of this article the Showcase feature was not available in Poland. Check Apple's official resources or local business news updates, as these rollouts can change.
Easy Registration and Accessibility
Gain access to this suite of features at no cost, with a straightforward registration process.
Whether you're tech-savvy or not, Business Connect's user-friendly interface makes managing your online presence simple.
Integration for Multi-Location Businesses
For businesses with multiple locations, the Business Connect API offers a scalable solution, allowing for bulk updates and ensuring consistency across various listings, all through trusted listing management platforms.
Step-by-Step Guide on Using Apple Business Connect
---
Sign Up or Log In: Visit the Business Connect website and sign in with your Apple ID or create a new one if necessary.
Verify Your Business: Follow the prompts to verify your business. You may need to provide documents or answer a phone call for verification.
Claim Your Business: Once verified, claim your business location on Apple Maps.
Customize Your Place Card: Add your business name, address, and contact details. Ensure all information is accurate and up-to-date.
Upload Visuals: Enhance your listing by uploading high-quality photos and your business logo.
Set Up Direct Actions: Configure direct actions such as 'Order Food' or 'Book a Table' to make it easy for customers to interact with your business.
Promote Special Offers: Use the Showcases feature to create and manage promotions or special offers that will appear on your place card.
Publish Your Changes: Review all the information and once satisfied, publish your changes. They will now be visible to all Apple users.
Regular Updates: Keep your place card updated with the latest information and visuals to maintain customer interest and engagement.
---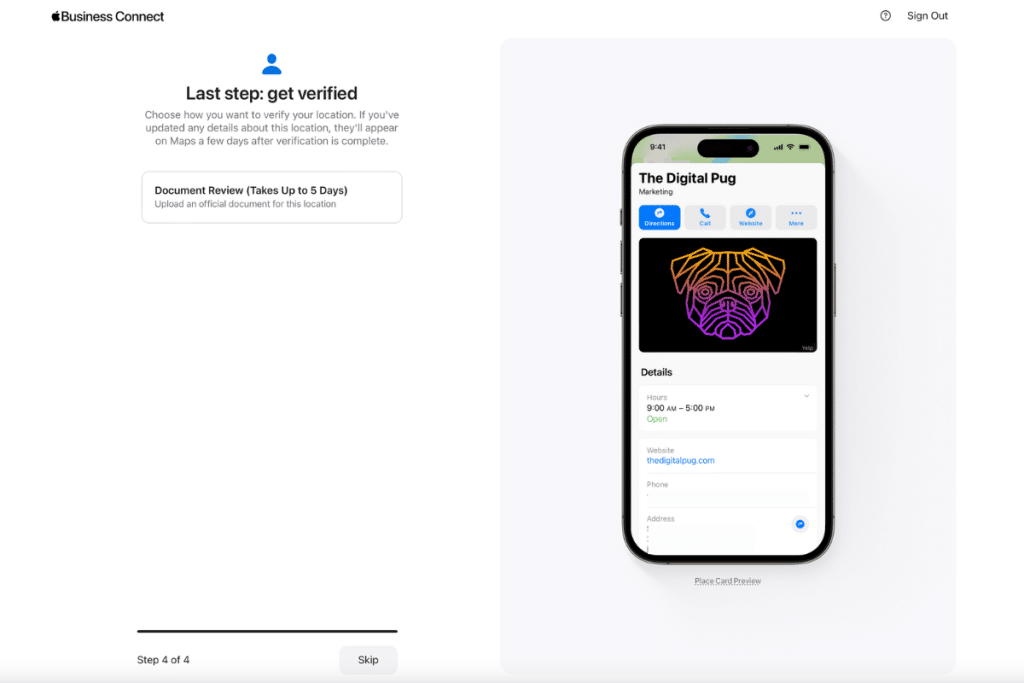 The Influence of Apple Business Connect on Engaging Customers
Apple Business Connect transcends the concept of mere business listings to create a genuine bond with customers.
It paves a pathway for customers to seamlessly transition from discovering your business to engaging with it, helping to convert casual browsers into loyal patrons.
Conclusion: Harnessing Apple Business Connect for Enhanced Business Prospects
Step forward into the new era of digital business interaction and customer connectivity.
Apple Business Connect is your portal to a realm filled with opportunities for business enhancement and expansive growth.
Recommended Reading
From Zero To Hero: Transform Your Web Presence With These 3 SEO Pillars!